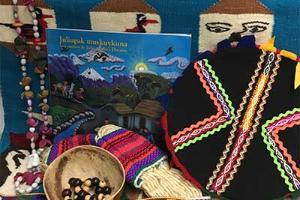 The Maya, the Aztecs, and the Incan Empire: The history of Latin America long predates the arrival of the Europeans. The Latin American Indigenous Peoples Traveling Suitcases allows students to engage with items that come from all across Latin America and represent the diversity of indigenous peoples.
In Box 1, touch the wool of the Colombian highlands, see embroidery stitched by recent Mayan people in Guatemala, and read a children's tale in English, Spanish, and Quechua. In Box 2, compare the variety of clothing from Mexico including traditional Mayan pants and a child's Huipil. Most of the items in the suitcases come from modern day living indigenous peoples. Use these suitcases to engage in conversations around indigeneity that encourage students to recognize that indigenous people are not a thing of the past.
Click here to view the Inventories – Box 1 & Box 2
Lesson plans
Each Traveling Suitcase has lesson plans and creative ideas to help teachers utilize the suitcase in their classroom. Many of these plans have been contributed by prior lenders. Here are sample lesson plans for these suitcases:
Ready to borrow the Latin America Indigenous Peoples suitcases? Click here to start the process.