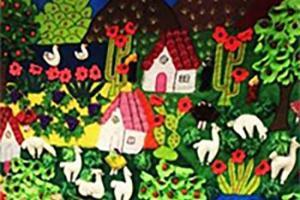 The Latin American Art Traveling Suitcase showcases jewelry, dolls, handmade ornaments and other examples of craftsmanship from around the region. Students can handle an indigenous talisman from Brazil and admire straw baskets from Colombia. The collection also includes dozens of postcards, posters, and books on Latin American art. Exploring the commodification of art for tourism or the differences between folk art and "high art," this suitcase is sure to inspire discussion in your classroom.
Click here to view the Inventory
Lesson plans
Each Traveling Suitcase has lesson plans and creative ideas to help teachers utilize the suitcase in their classroom. Many of these plans have been contributed by prior lenders. Here are sample lesson plans for this suitcase:
Ready to borrow the Latin American Art suitcase? Click here to start the process.