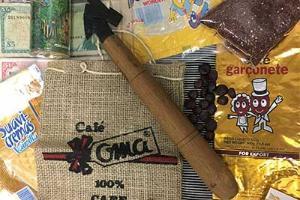 Liven up your classroom with this collection that contains brands of coffee from countries throughout Latin America. Food products – like sugar, beans, spices – that are key drivers of local economies come in this suitcase. Plus, students can review money (bills and coins) from almost every country in the region.
Click here to view the Inventory
Lesson plans
Each Traveling Suitcase has lesson plans and creative ideas to help teachers utilize the suitcase in their classroom. Many of these plans have been contributed by prior lenders. Here are sample lesson plans for this suitcase:
Ready to borrow the Latin American Economy suitcase? Click here to start the process.