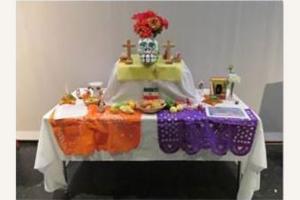 The Day of the Dead Traveling Suitcase is always popular around October and November! Explore the cultural differences between Halloween and Day of the Dead with your students. Inside the suitcase has all of the items needed to make an altar for Día de los Muertos in your classroom. The suitcase includes many traditional items for the table including figurines, offering dishes, plastic food and flowers, and candles. We also include a teacher's guide and some of the other essentials such as table clothes and extra tissue paper so students can make their own papel picado.
PLEASE NOTE: This suitcase is always in high demand around October. If you would like to borrow this particular suitcase, please submit a request well in advance.
Click here to view the Inventory
Lesson plans
Each Traveling Suitcase has lesson plans and creative ideas to help teachers utilize the suitcase in their classroom. Many of these plans have been contributed by prior lenders. Here are sample lesson plans for this suitcase:
Ready to borrow the Day of the Dead suitcase? Click here to start the process.