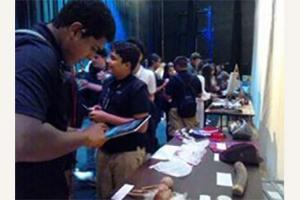 Check out our collection of toys, coloring books and musical instruments from around Latin America. Dive into some fables and fairy tales from Argentina, Puerto Rico and Mexico. Play with dolls from Nicaragua and Ecuador. Whether students are comparing their own childhood to the variety of childhood experiences captured in these artifacts or whether they are learning to talk about their own childhoods in Spanish, this suitcase is sure to liven up your classroom.
Click here to view the Inventory
Lesson plans
Each Traveling Suitcase has lesson plans and creative ideas to help teachers utilize the suitcase in their classroom. Many of these plans have been contributed by prior lenders. Here are sample lesson plans for this suitcase:
Ready to borrow the Latin America Childhood suitcase? Click here to start the process.