Revisiting Latin America's Growth Conundrum
Event Start Date: March 16, 2021 6:30 PM
Event End Date: March 16, 2021 8:00 PM
.
Online talk by Economist Augusto de la Torre
Former Chief Economist for Latin America at the World Bank
To receive the Zoom link to attend, please submit the Google form here. A Zoom link will be sent to you on Monday, March 15.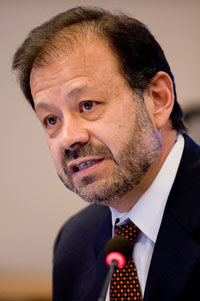 Augusto de la Torre is a professional economist that has combined research, writing, service at multilateral organizations, policy advice, and policy making throughout a rich career, with a special focus on Latin America.
De la Torre currently teaches at Columbia University's School of Public and International Affairs, in New York City; is the Director of the Economics Research Center at the Universidad de las Américas (UDLA) in Quito, Ecuador; and acts frequently as a senior policy consultant.He left the World Bank at the end of 2016, after 20 years of service in various senior roles. In the first 10 years he concentrated in macroeconomic and financial sector themes, including as Head of the Global Financial Systems Department and as Senior Financial Sector Advisor for Latin America. In the last 10 years, he was the World Bank's Chief Economist for Latin America.
Prior to his World Bank career, he served as the Governor of the Central Bank of Ecuador (1993-1996) and worked at the International Monetary Fund (1986-1992), including in the post of IMF Resident Representative in Venezuela (1991-1992). De la Torre has published extensively on a broad range of financial, macroeconomic, and economic development topics. He is an active participant in Latin American-related policy forums and scholarly endeavors. He was chosen by Euromoney Magazine as the "Best Latin Central Banker" for 1996. He earned his M.A. and Ph.D. degrees in Economics at the University of Notre Dame and holds a Licenciatura in Philosophy from the Catholic University of Ecuador.