Latina Empowerment Symposium: I am, Yo Soy, Mwen se, Eu sou Poderosx: Resisting violence against Womxn
Event Start Date: March 06, 2021 9:00 AM
Event End Date: March 06, 2021 4:00 PM
.
Latina Empowerment Symposium | Virtual Event
March 6 | 9:00 am - 4:00 pm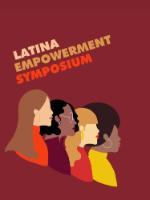 The Symposium was created to cultivate an intentional interdisciplinary investment in critical consciousness about Latin America and the Latinx community in the U.S. The theme of the Symposium this year is "I am, Yo Soy, Mwen se, Eu sou Poderosx: Resisting violence against Womxn." The theme aims to bring awareness to gender violence throughout the diaspora and specifically highlight various intersectional identities that are often erased. Hosted during Women's Heritage Month we are hoping that the Latina Empowerment Symposium highlights the existence and contributions of Latina women which are often times hidden in the shadows or erased from history. We hope that you may join us as we enter a transformative event in further exploring our power as Latinas.
The symposium is also open to faculty and staff.
Intended Outcomes
By Participating in the Latina Empowerment Symposium participants will:
1: Be exposed to current research on critical issues involving intersections of gender and racial violence toward cis and transgender women.
2: Engage in relevant conversations about approaches and resources to combat gender, race, and class oppression across the globe.
3: Recognize and discuss the impact of patriarchy in lives of minoritized womxn across the world (I.e., Black, Latinx, and Indigenous), considering the increasing rates of domestic violence during the pandemic.
See the full schedule and register here
For further questions please email: mcdahispaniclatinoaffairs@ufsa.ufl.edu
For more information, email Dr. Tim Fik at fik@ufl.edu