Dialogue in the Diaspora: Benin and Brazil in Conversation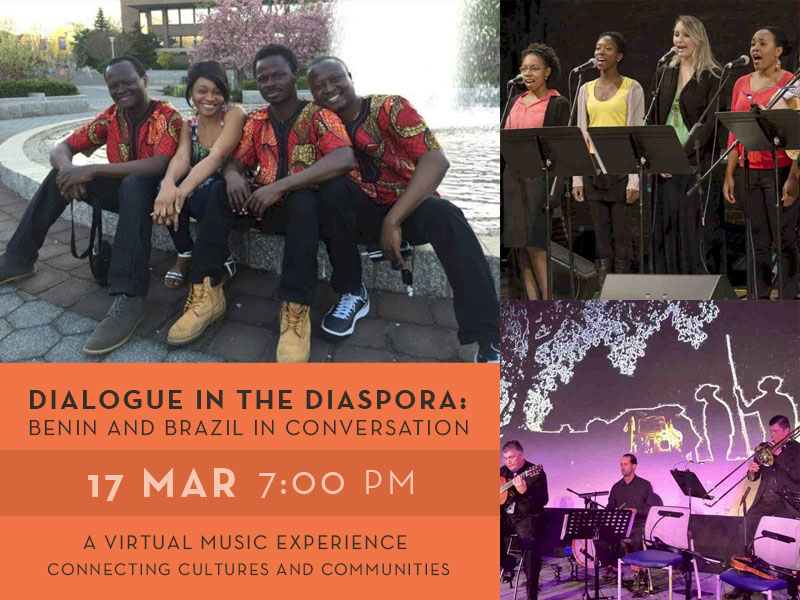 Event Start Date: March 17, 2021 7:00 PM
Event End Date: March 17, 2021 8:15 PM
.
Virtual musical performance
Wednesday, March 17 | 7:00 - 8:15 pm
This event will be live-streamed here.
Join University of Florida's Jacaré Brazil and Jomion and the Uklos of Bénin in a musical dialog exploring the past and present connections between the West African Republic of Benin and Brazil. These two ensembles will explore the mutual histories of samba, the style of bossuhoho, and the many sacred and popular rhythms that have traveled back and forth between these two sides of the Atlantic over the past few centuries. This event will allow the discussion of music and the importance of rhythm, creating an atmosphere of collaboration among artists, students, and professors. Hosted by ethnomusicologists Dr. Welson Tremura, Dr. Sarah Politz, and Choreographer Dr. Augusto Soledade, the event will initiate new conversations about the complex histories of migration and identity formation that these two countries share. Jacaré Brazil will be streaming from Heartwood SoundStage in Gainesville, FL, and Jomion and the Uklos from Brooklyn, NY.

Jomion and the Uklos are a "whedo-vodun-jazz" ensemble from Benin, based in New York City. They are a family ensemble led by Sam "Jomion" Gnonlonfoun. They formed in 2007 in Benin and moved to New York in 2013. With his brothers J.B. and Mathieu, Jomion blends together Beninese musical traditions like vodun and African gospel with diasporic traditions like salsa, reggae, and jazz to create their "whedo" music, a reference to the Fon term for the rainbow (ayidowhedo), a powerful symbol from vodun cosmology for the multiplicity of African music and spirituality in diaspora.

Jacaré Brazil provides a unique interpretation of Brazilian music through its usage and mixture of various Brazilian instrumental musical genres and rhythms such as the choro, waltz, maxixe, samba-choro, and bossa-jazz. The distinctive mixing of musical instruments such as the violin, mandolin, saxophone, guitar, pandeiro (Brazilian tambourine), and voices create nostalgic sentiments with colorful and brilliant textures. Its repertoires celebrate and remind us of Brazil's rich music scenario.
This event has been done in partnership with the College of the Arts, and the Center for African Studies.