The goal of our summer teacher institute is to guide teachers through a discovery of Latin America and content integration across the curriculum. Below is information regarding our current and upcoming initiatives. We also encourage you to review our Summer Teacher Institute Archive for past initiatives.
Global Teacher Leader Institute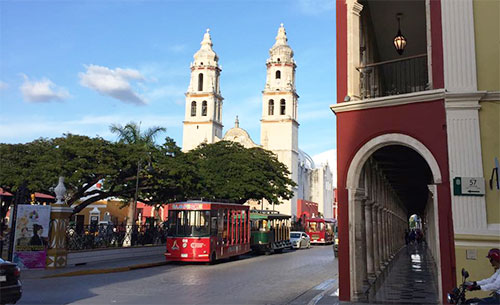 Dates: June 9-17, 2018
Location: Campeche, Mexico
Description:
This institute will introduce global competencies and help educators integrate global themes within their daily curriculum. The innovative uses of technology to collaborate across borders will be a key component of the program. Sample topics to be addressed are comparative education, identity and belonging, and sustainable development.
To learn about ways to better prepare our students to navigate an increasingly complex world where problem-solving and critical thinking needs to take local and global perspectives into account. Florida is considered the gateway to Latin America based on proximity, trade, and the number of visitors from the region. An introduction to the region will contribute to increased understanding of the variety of Latino populations in our communities and schools. In this program, you will learn about Mexico as one example of the countries that make up the fascinating world region of Latin America.
The institute will also include some virtual pre-departure meetings, in addition to follow-up activities once back in the U.S. We are committed to supporting teachers as they integrate new ideas into the curriculum aligned with their local requirements and standards.
Who Should Attend: K-12 teachers and administrators, pre-service education faculty
Application Deadline: February 28, 2018
Sponsor: University of Florida Center for Latin American Studies as a United States Department of Education TVI National Resource Center, Universidad Autonoma de Campeche, Instituto Campechano, Volusia County Sister Cities
Click HERE to apply.
Contact for any questions:
Mary Risner
Associate Director
mrisner@latam.ufl.edu
352-273-4723
*Funding: A limited number of scholarships are available through USDOE Title VI funding. Applicants are encouraged to seek alternate sources of funding through their school district, local Rotary Clubs or other professional associations.