Undergraduate Spotlight: Sarah Lilian Pattison
April 14, 2017
Sarah Lilian Pattison
Spring 2017 Graduate
College of Liberal Arts and Sciences
Bachelor's Degree in Political Science with a Certificate in Latin American Studies
The Center for Latin American Studies would like to congratulate Sarah Lilian Pattison for receiving the undergraduate CLAS Excellence Award!
Sarah is a Political Science undergraduate student with a certificate in Latin American Studies. She is also a recipient of the 2016-2017 Foreign Language and Area Studies (FLAS) fellowship and has been studying Portuguese for three years. Last year, Sarah was able to put her language skills to good use when she participated in the UF in Bahia program. Sarah is also the Vice President of the UF College Democrats and has a passion for grassroots organizing and mobilization initiatives. Over the course of her undergraduate experience, Sarah's extracurriculars and involvement with the Center for Latin American Studies led her to become engaged with the local Gainesville community. Sarah has volunteered for numerous local campaigns, has been involved with petitioning initiatives, and has advocated on behalf of Florida's students on a variety of proposals. Sarah has also volunteered with organizations like the Gainesville Latina Women's League, which puts on the Gainesville Latino Film Festival, and Bread & Roses, which provides critically important women's health services to the community.
---
• What made you want to incorporate Latin America into your undergraduate studies?
Entering college, I was painfully aware of the lack of knowledge I had on Latin American history. The only thing we touched on in high school was the Bay of Pigs. Living in Florida and being surrounded by Latin American cultural influences, I was eager to learn more about the region that was so closely tied to my home state and to the United States at large.
• What advice would you give to other students considering the certificate program in Latin American Studies?
Take advantage of the opportunity to learn from your peers. In Latin American Studies classes, everyone comes from a different background with their own unique experiences and knowledge. Discussions challenge you and present new perspectives. Don't be afraid to ask questions, clarify, or contest issues. And make sure to take advantage of the outside of class experiences! The Center for Latin American Studies offers so many different and cool opportunities to immerse yourself in cultural and intellectual experiences that tie together everything you've learned inside the classroom and make them applicable to the world in which we all live.
• What made you want to participate in the UF in Bahia program?
After taking numerous Portuguese and Latin American Studies courses, I knew I wanted to go to Brazil, but I also had very specific things I wanted from a study abroad program. I wanted to stay with a host family, travel somewhere I wouldn't easily visit on my own, and be placed outside of my comfort zone. I firmly believed that this would give me the greatest opportunity to learn and personally develop. UF in Bahia was an exceptionally unique study abroad program, and I was instantly attracted to its focus on race, inequality, and power in Brazil. Not to mention that the program is lead by Dr. Rosana Resende, who is one of the most dynamic and engaging professors I've taken at UF, and who is constantly challenging her students to think more critically and delve deeper into intersectional issues.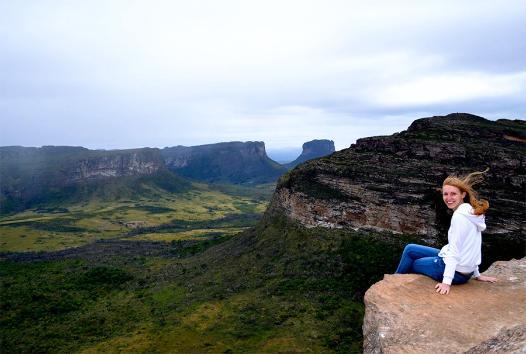 • How do you think it benefitted you to experience a different culture?
Experiencing a different culture absolutely has made me the person I am today. Taking yourself out of your comfort zone forces you to really embrace and own who you are in an environment where no one knows who that is until you show them. It also teaches you how to truly learn from others. My conversations with taxi drivers, coconut vendors, and Brazilian kids playing soccer on the street allowed me to see the stark differences between my home and other parts of this world, but also the similarities that all humans share. It's by far the most rewarding and valuable experience I have ever had.
• What are your plans after graduation?
After graduation, I plan to pursue a career in fundraising for causes that make tangible impacts in our communities. Fundraising is crucial to making any successful change, for getting the message out, and for mobilizing people. I am eager to play an active role in making idealistic solutions to our society's problems a reality.