K-12 Teacher Spotlight - Brian Crouch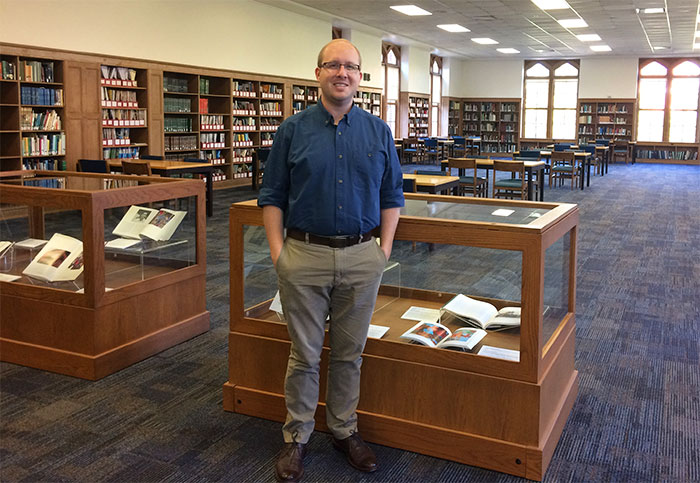 July 24, 2017
Since its inception, the Center for Latin American Studies' Outreach program has worked with K-12 teachers to help integrate Latin America, its cultures, and its languages into their curriculum. One of the initiatives that aides in this process, is the Summer Teacher Institute. The goal of the Institute is to guide teachers through a discovery of Latin America and content integration across the curriculum. One participant at this year's Summer Teacher Institute was Brian Crouch. Mr. Crouch is a teacher at Lake Worth Community High School in Palm Beach County, who teaches an elective course in Latin American History. He was also nominated by his school as a Teacher Trailblazer, a Google Program that helps tie professional growth opportunities to classroom technology deployment. The Center was able to sit down with Mr. Crouch at the Latin American and Caribbean Collection to talk about his experiences teaching a Latin American Studies course.
What motivated you to teach a course in Latin American Studies?
My passion for Latin America comes from having lived in Guatemala for five years. Living in Guatemala helped me see the similarities and differences between both cultures. Many of my students also come from Latin America. In my school, for example, around 46% of the student body is from Latin America, yet there weren't any courses offered that tackled Latin American culture. With my course, I try to fill this gap in the curriculum while raising awareness about the differences and similarities between our cultures.
What are some of the challenges you encountered in developing your course?
I proposed the course back in the spring of 2014, and after various trials and tribulations was finally given the go-ahead October 2014. My first section had 10 students enrolled, last year I had five sections and a total of 150 students. Building the curriculum, however, wasn't easy. Since a course like this hadn't been taught before, I had to develop everything from scratch. Finding reliable resources was difficult, and it became even more challenging since most of the textbooks are college level and have to be adapted for high school students. Unfortunately, this is partly why many schools don't offer this type of course. Teachers that want to create similar courses have to spend countless hours trying to find and adapt resources.
Because I was able to demonstrate the need for courses like mine, the Palm Beach County School District asked me to work with them to help develop curriculum like the one I created for my Latin American History course. I also helped compile and store on the County website a list of resources that teachers can use for their own course initiatives. Through this work, I hope to make it easier for teachers that want to create multicultural courses for their schools.
Why do you think it is important for students at the high school level to be exposed to multicultural programs?
We live in a globalized world and our schools need to offer courses that highlight and celebrate this globalization. Florida, in particular, is a multicultural environment with a large Latin American community. However, out of the 185 schools in Palm Beach County, only five of them offer Latin American History, even though there is a high Latin American population in the county. Unfortunately, many students that come to the US are pushed to assimilate to US culture. This often causes them to forget their roots. While it is important to assimilate to US culture, they should never forget where they are from and should celebrate their history and culture. Through my teachings, I hope to impart to my students the importance of celebrating and, more than anything understanding the different cultures that surround us.
From a teacher's perspective, how might the Summer Teacher Institute help you improve your classroom initiatives?
Biggest thing was real world experience. It was great to travel to another country and see how those teachers experience the same frustrations and have similar goals as US teachers. I was also able to learn from different speakers and received teaching materials that I'll be able to adapt and put into practice with my students. It was also great to network with other US teachers as well as the University of Florida, and learn about various resources that I can now use in my classroom. These resources will help me create a better-rounded program in Latin American History.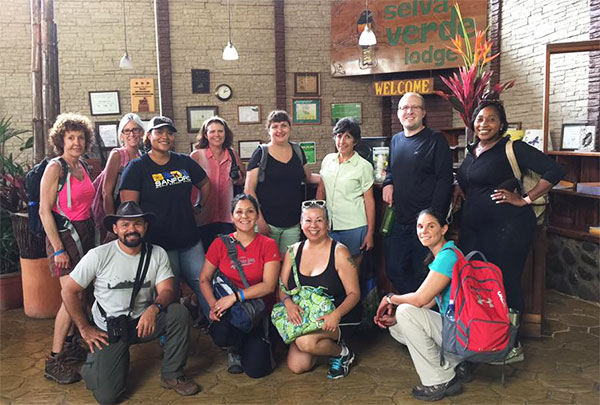 Brian Crouch at this year's Summer Teacher Institute. Back row, second from right.
What can institutions like the University of Florida do to provide better resources to K-12 teachers?
Making the resources available online and helping develop K-12 curriculums will make things easier for teachers. For me, being able to visit the library and see what resources are available will help me better develop my course. In general, teachers need materials that are 'teacher ready.' If the material is online, make the website easy to navigate so teachers can access the resources and supplement their curriculum. Having reliable and easily accessible material helps teachers maintain the integrity of the program; especially when students turn to websites like Wikipedia if they're unable to find more reliable sources. Also, if the material is geared toward K-12 teachers, then it is important to adapt it for high school level students. This will save teachers a lot of time when developing their curriculum.